Any Excel graph gurus here? Need some dire help.
By the way, my problem from a few posts above is likely a bad cable line. Comcast escalated the issue and like a mega technician came out on Sunday whose job it is to get shit done no matter what. He checked outside and in the attic where our internet line comes in and found interference. He couldn't tell exactly where it was coming from, but thought the line was either touching an electrical line in the attic or perhaps someone had stapled the cable down, punctured it, and it was deteriorating. He pulled a whole new cable through the attic and into my home office. Also replaced a part outside.
Spent a good couple hours in our house, which wasn't thrilling, but he was wearing a mask, we stayed away from each as much as possible, and he was very nice. When he finished, he sat outside for 30 minutes just to monitor things.
We still had a bunch of outages Monday and Tuesday, but none since. He gave me his cell, so I updated him. He said he was going to send someone out to completely replace the line from the street to the house. Dude is a champ.
Guru? Questionable. But I do play with data all day.
I need to make a stacked column graph that consists of 2 columns side by side (1 planned work and 1 actual work). These stacked columns need to be broken out into 11 different colors to represent the 11 different projects. Horizontal axis is just the weekly date. I can't figure out how to get the 2 stacked columns side by side on the same graph.
Sorry, was ready to look at this, then got called for a house task.
Anyway, is this what you have in mind? Data looks like this: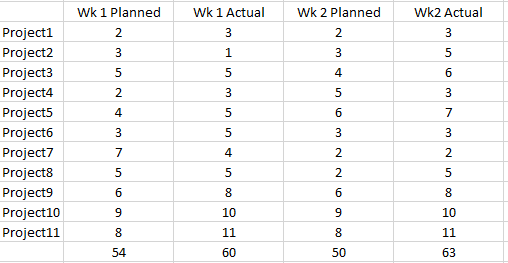 And stacked columns like this?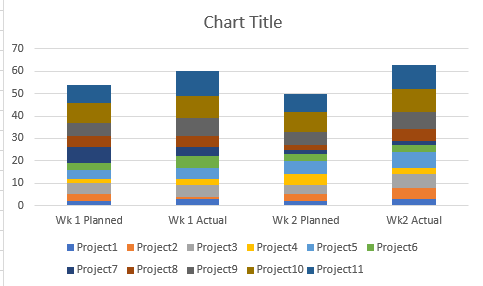 This is straightforward - just highlight the area, select stacked chart, then switch rows/columns.
But I feel like I'm either misunderstanding what you're looking for or what your data looks like, because this feels like an incredibly bad way to present the data.
This is exactly what I was looking for. I agree it's a poor way to visualize the data, but it's what I was instructed to come up with. Can't believe I couldn't figure it out. Haven't used excel much in the last decade. Thanks a ton for the help!
Just gotta say this community rocks sometimes.

Posting a short update. I have set up the Nest router upstairs and an access point downstairs, and everything has been running smoothly for about two weeks. So it seems like the connectivity issues I was having were due to a weak router after all. It's still strange because I did check speeds around the house and they were fine with the old router, but since everything is working now I'm just going to forget about it and take the win. Thanks again for the advice.
What speed checker site were you using? Some are notoriously terrible.
Lately I've just been using the built in Google one that appears above the first search result
Did this ever resolve itself? It probably had something to do with me rebooting the server this morning to install some updates.
Been noticing that youtube embeds are blowing up in browser and mobile landscape, by that I mean black space to the side or around the vid. Portrait mode is fine.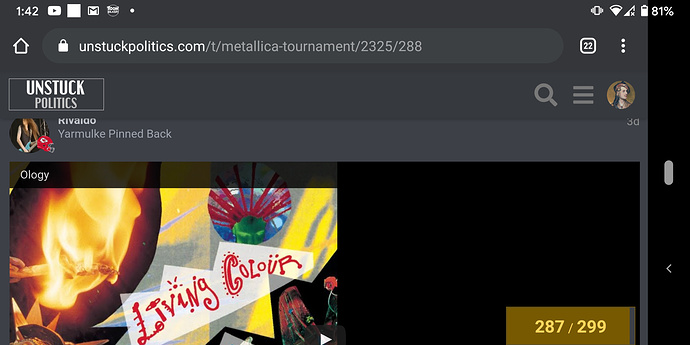 This is probably shouting into a void, but I could use some help. Short story is that I'm looking for the best approach to annotate and save pdf files on an ipad air.
Setup:
I have a bunch of different desktops/laptops for work, all of which have synchronized files. (These are mainly in Box Sync, but I also use Dropbox and OneDrive.) I just got an ipad air with apple pencil 2, and I want to be able to do the following:
Open a pdf file from one of the synchronizing apps (preferably Box), annotate that file with the apple pencil, and save the file so that the synchronized version of the file retains those annotations on other devices. This is super easy to do with my Microsoft Surface, but is proving to be harder than I expected on this ipad.
What's the best way for me to accomplish this?
Thanks
I have been having some very annoying issues the last few days on my Series X. I am unable to send or receive messages, unable to open specific tabs in the settings menu like privacy, LFG sometimes doesn't work, I get randomly kicked from party chat, ect… The same issue happens when I am connected to the internet on my phone via the Xbox app, but when I turn off Wifi all is good and I can send and open my messages. Does anyone have any idea on a resolution for this? It has to be something with the router / internet right?
Odd failure to fetch the fancy card for the link in this post:
@anon46587892 is there a way to remove the ability to heart posts or remove the ability to see who heart posts?
I just think it's a a toxic feature that breeds resentment. It's not necessarily something I personally want hidden but just curious if it was an easy feature to disable forum wide (if voted on)
Maybe kill the like button on certain threads. But not everywhere.
Like in the travel photos thread. There's nothing toxic going on there. I don't want to have to comment "Hey I like this photo" every time. But I'd like to give some accolades to a great shot.