The topic of schools has come up a lot recently, as K-12 and universities try to figure out what they're going to do for fall 2020 classes. But I think this topic is interesting beyond just COVID-19. Use this thread to talk about public vs. private/charter schools, school funding, SAFE SPACES, and the general liberal indoctrination that students experience in college.
The COVID-19 related topic that prompted me to start this thread is the idea that state budgets are obviously getting crushed by the effects of the virus, and that's going to have a significant impact on schools. For state colleges/universities, the effects might not be as large as you might expect, because state funding of higher education has gone down significantly over time. But it's going to really hit K-12 public schools hard, and it's going to do so in a very inequitable way, at least here in Ohio. Here's a slide I made for a class I taught a couple of years ago: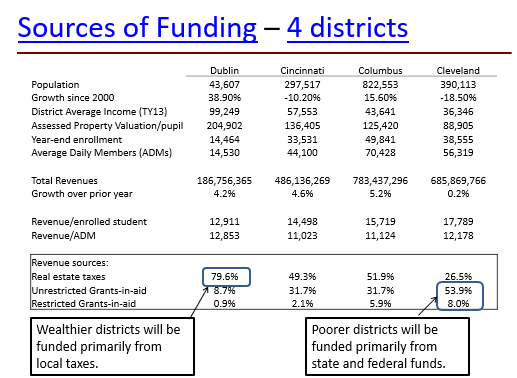 Basically, Ohio public schools are primarily funded by property taxes to the extent that property taxes are able to cover a minimum standard of education. For those districts where property taxes cannot fund that level of education (basically poorer districts without a large tax base), the state has to provide a larger portion of funding. So a relatively affluent district like Dublin (a suburb of Columbus and home of the Memorial golf tournament) receives the vast majority of its funding through property taxes, while a poorer district like Cleveland receives most of its funding from federal and state government. If state budges are cut back significantly, that's really going to hammer the budgets of poorer urban and rural districts relative to the more affluent suburbs.
And that budgetary effect is on top of the fact that affluent districts already have better infrastructure, particularly in terms of allowing for at-home schooling. In the Dublin school district, every middle school and high school student has their own school-provided Chromebook that they're using for online learning. And this is just speculation, but I feel pretty confident that having a parent at home (whether a work-from-home or stay-at-home parent) is more likely in these districts, making it easier to have effective online learning.
Anyway, I think the topic of education is pretty fascinating and deserves its own thread.