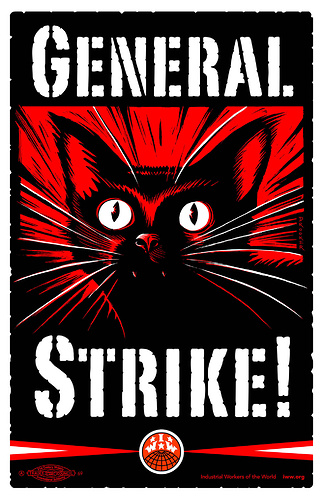 Profits > People = Recklessness
We've all seen it before. There is no reason to ever let this shiz happen again. Some say it's the POTUS who tells us when we have to go back to work. Some say it is the governors. Both are wrong, of course. We working folks, and only us working folk, decide on when, or if, we are going back. This is the perfect time to make a practical demonstration of this fact.
Friday, May 1, General Strike: no Work, no Shopping, no School
This year will be one of the biggest general strikes in years. It's really easy to participate. For a lot of us, it'll be as easy as just saying "General Strike!". Let's do a poll !!!1!
General Strike! ~ I do this every Mayday
General Strike! ~ I'm not working that day anyways, can shop on other days, and school is closed
General Stike! ~ I can take sick leave/vacation/etc, can shop on other days, and school is closed
General Strike! ~ Nobody is going to get fired during a pandemic y/o take this job and shove it, I can shop other days, and school is closed
General Strike! ~ I'm a ICU nurse or something like that. It's a calling, and my patients depend on me, perhaps even to live. I'm fully in support of the general strike, but I am still going to work. I can shop other days, and school is closed
I'm against the general strike
Bastard