There have been a few studies, and I think they generally show not amazing results for young kids. A summary of the data from one preprint: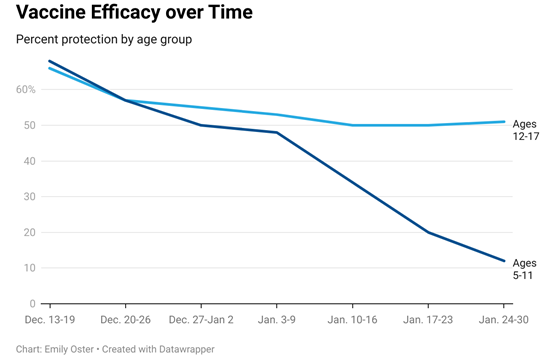 (This is an easier-to-read version of the data from Figure 1 of the preprint)
From a recent CDC release:
Children and adolescents aged 5–15 years were tested for SARS-CoV-2 weekly, irrespective of symptoms, during July 2021–February 2022. Approximately one half of Omicron infections in unvaccinated children and adolescents were asymptomatic. Two doses of Pfizer-BioNTech COVID-19 vaccine reduced the risk of Omicron infection by 31% among children aged 5–11 years and by 59% among persons aged 12–15 years.
So that doesn't seem great, but there's a really big confidence interval around that estimate, so I'm not sure how seriously to take it.
I think the most likely story is one that Katelyn Jetelina offered a couple of weeks ago:
Vaccine dosage matters . What was surprising is how quickly VE waned among 5-11 year olds compared to 12+ year olds. This suggests that dosage could matter a lot . In fact, it confirms results from an August 2021 primate study that showed that dosage significantly predicted upper and lower airway viral replication in monkeys: the higher the dosage, the lower replication. (Interestingly, the authors of this primate study created the Moderna vaccine, which may explain why Moderna went with the higher dosage approach, compared to Pfizer, which went with a lower dosage approach in their vaccines.)
This is consistent with Pfizer's <5 results being so weak - they (compared to Moderna) intentionally targeted a lower dosage for kids because they were more focused on potential side effects than efficacy. Moderna has been willing to risk higher side effects in exchange for higher efficacy.
I've got an 11 year old and my current strategy is to get a regular shot when he turns 12 in a few months, rather than getting him boosted with the weaker 5-11 shot.