I am not usually one for impulse buys, even at pretty small scales, but I saw some fresh figs at the farmer's market today, and I caved. Basket of 8 for $7. Fresh figs are something I that I have eaten only rarely and that I have never prepared myself, but they sounded like a nice treat when in season. Naturally, I turned to Serious Eats for some inspiration, and their simple grilling recipe looked like a shoe in, especially since I was planning on making fish on the grill anyway. Fig, cut and stuffed with goat cheese, brushed with olive oil, and then smoked on the grill for about 5 or 6 minutes while the fish rested, then drizzled with cabernet balsamic vinegar from our favorite winery and dusted with a fresh water bit of rosemary from our backyard.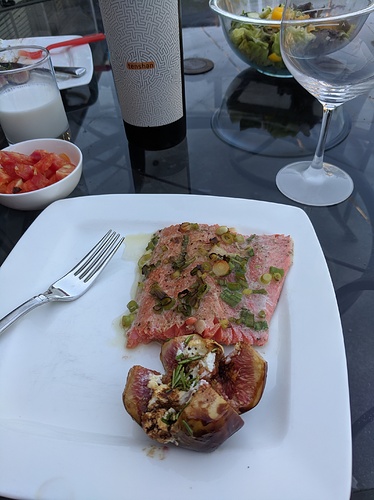 The fish is wild caught sockeye salmon prepared in my family's traditional fashion that I don't really see anyone else do. I put the fish on a foil wrapped cookie sheet, salt and pepper, some pats of butter over the fish, and then green onions. That all goes on the Weber kettle over charcoal and apple wood, indirect heat. After getting set down, pour a bit of white wine to cover the bottom of the cookie sheet. This lets the top of the fish smoke while the thin parts don't overcook. It only takes 10-15 minutes.
The salad in the background is all from the farmer's market: butter lettuce, cucumber, yellow pepper, and heirloom tomato, homemade dressing of flaxseed oil, balsamic vinegar, horseradish mustard, shallot, salt and pepper.
Great dinner tonight