Kentucky would lose to a high school team
Well hope you took the +4 and not ML. Sigh.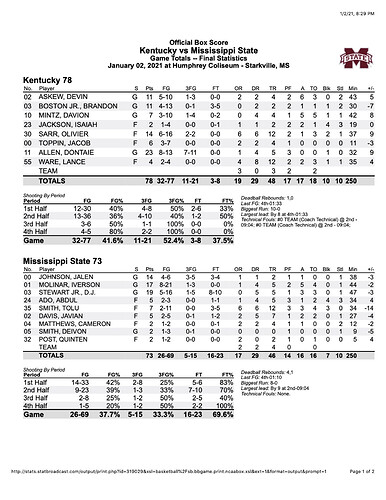 Guess who was the 5* big time recruit and supposed to be a top 3 pick
Guess who was a 3* recruit from Kentucky who finally got a chance to play
(If UK has a chance to do anything, Boston needs to at least be good. Allen shouldn't be running circles around him first game he gets minutes)
Michigan Basketball is undefeated and has a top ranked class coming in next year. Coach Howard has exceeded my expectations so far. It will keep my mind off the horrid football team some.
Hunter Dickinson is already a top 10 player in the country and he's played 9 games.
Luka Garza : Shaq :: Hunter Dickinson : Tim Duncan
That said, Garza is 3 years older and more experienced and will probably eat Dickinson's lunch when they play, but I'm really excited about the direction of the program.
Garza and Dickinson practiced together this year. At least Dickinson won't be unfamiliar with him.
What weird times we're living in. Duke, UNC, and Kentucky received zero votes in the polls.
Wtf is that a saying in the south?
I never heard it while living in the south. Though, I would bet it is something uttered by a subset of the population.
Regardless of that, this coach was born and grew up in eastern Iowa, played basketball at Northern Iowa, then coached at North Dakota, Wayne State (NE), North Dakota State, Northern Iowa, Iowa State, and now Creighton. So why would he be talking about plantations at all?
Cuz he's a light racist that slipped up.
I love the part where they all have to grow and learn together. Nah bud, just you.
Gimme this one night. Lifelong illini fan and alumni. I know we're not gonna win it, but just let me have this one night. Fuck yeah!
…and this is not a ewing theory situation with illinois either, they are better with Ayo, period. But yeah Curbelo's game is hilarious—I'm a big fan of his. Neutrals shouldn't read too much into today's score, Michigan's bigs just had one of those days and it snowballed. Man it's an obvious thing to say but college basketball was so much more awesome when stars stayed three years.
Always a good day when Michigan gets rekt
…and UK-Ole Miss to end the triple header…lol
I've heard it as "off the reservation", which I'm sure is equally offense to Native Americans. Never as "off the plantation" though.
I don't really care which thread survives, but probably don't need two of these: