My intention ITT is to quarantine our personal stories re:Covid from news, views, and such.
I'm hoping I didn't say goodbye to my dad this morning.
I am my 90yo dad's caregiver. I had kept him in almost compete isolation since late February. Now he has done gone and broken several ribs. He's in the ICU. At least that's what I hear. No visitors, of course. During non-pandemic times, a patient needs to stabilize for three days before they ship them off to a rehabilitation nursing home. Not now. They said they'll ship him off as soon as he stabilizes, maybe tomorrow. No visitors in the nursing homes either, of course.
I fear.
Hey Sabo,
I'm hoping for you, too. When he gets to the nursing home, call him and tell him you love him. If getting him on the phone is a possibility.
That's terrible Sabo. Really terrible. Not being able to visit or even find out what is happening must be very painful. Damn.
Nationally, about 69 people die due to lawnmower incidents based on data from a 10-year period. The deaths were up to 100 in 2014. If you look at injuries, more than 250,000 people are hurt by lawnmowers each year, according to the American Academy of Pediatrics.Feb 21, 2018
Abnormal number of Americans are killed by lawnmowers …
Hopefully my dad won't end up adding to this count. Listen up folks, these can be very dangerous machines…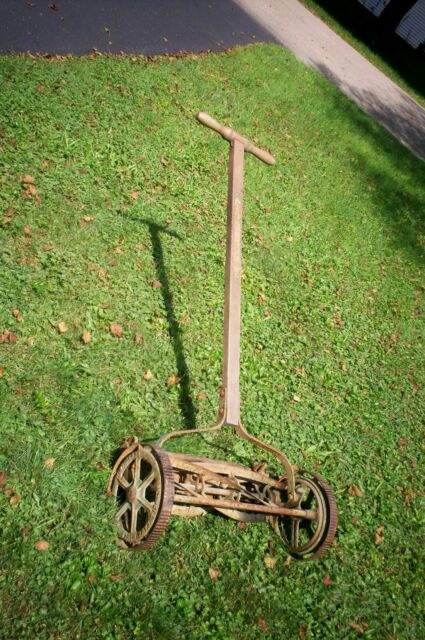 My dad is an exerciser, and as exercise, on Monday was out cutting this Winter's foot high grass. He's also had mildly trick back most of his life. That evening, he mentioned his left shoulder and back was bothering him. I gave him some Ibuprofen. He said he felt better. Off to bed he went.
Yesterday, same thing, except he didn't go out and cut more grass. In the morning Tylenol also did the trick. That night, off to bed he went. But, this night he was squirming around a bit getting comfortable. I gave him an Ibuprofen, which seemed to do the trick. Until…
About 1 am he apparently squirmed his way out of the covers, and onto the floor with the thud. He hit the back of his noggin in the process, and was making a mess with the bleeding.
So I got him up, dressed, and we walked out and got in the car. I drove him to a major walk-in clinic at a major hospital (Scripps Torrey Pines, for those who know San Diego). It was a surreal drive, heightened by the monolithic and under-construction nearby trolley extension. We saw only two other cars out and about. My dad was the only patient at the clinic for the entire four hours we were there. I was with him the whole time.
They did the brain scans, checked for concussion, they gave him a few stitches, and "as long as he his here" threw in an x-ray of his sore shoulder. Everything came up ok, so they sent us on our way. I drove him home, we walked on in, and we each tried to get some rest.
About three hours later, they called me back up. They said, upon further review, the x-ray shows my dad had several broken ribs.
I didn't mean to make a thread about my dad. I had imagined other folks would post similiar "small" stories in this this large disaster. And maybe folks still might. It's all good, and I'm in a good mood right now too.
It's a funny story because it didn't have a bad ending.
It turns out my dad broke the ribs mowing the lawn a day earlier, on Sunday, March 29th. On Monday, March 30th dad had a previous appt to get a vaccine… and since we were there, I asked for a look at his "sore shoulder". The insurance company disagreed with all of that, so he wasn't seen. Wednesday, April 1 he fell out of bed, and cracked open his head. I took him to urgent care, who since he was there, threw in an x-ray of his "sore shoulder". They said no concussion/etc and sent us home. A few hours later they noticed the broken ribs, and said come on back, and admitted him. The prognosis was a quick discharge followed by an extended stay in a SNF. A nursing home during a pandemic.
The story since… my dad made such a strong recovery from the broken ribs, the docs said he could skip the SNF and come on home. But… right before they discharged him, his prostate swelled up, he couldn't pee, so they put in a catheter. They discharged him on April 8th, but he didn't physically tolerate the catheter, and because of his Alziemers, didn't understand why he has this thing stuck into his penis, and didn't understand why he couldn't just pull in out. I took him back in after about longest 10 hours of my life at home. By the 10th, he could physically tolerate the catheter, and they released him again.
So, first it was the vaccine… then that didn't really matter. Then it was cracking open the head… then that didn't really matter. Then it was the broken ribs and punctured lung happened before the vaccine quest… then amazingly enough, that didn't really matter very much. Then it was the catheter. And then we as a family were faced with the same dilemma: Medicare will pay for 2 weeks in a SNF to make sure he doesn't pull the catheter out 24/7. That's a nursing home during a pandemic.
Fortunately for my dad, he is privileged enough to be able to pay for 24/7 sitters at home for a short spell of a couple of weeks. So that's what we did… he paid mid 4-figures for what Medicare already covered. The health care pros that treated him were in 100% agreement that that was a wise choice.
He got the catheter out Sudnay. Today he got a final discharge on all the above. He's still a 90yo man in the midst of a pandemic. But he 'dodged a bullet' here for sure. End of this story.
@DodgerIrish - get in here with a joke about catheters and final discharge. I got nothin.
I'm not making any jokes at that guy's expense.
Now that he's healed up, sounds like he could still kick my ass.
My dad is also 90, my mother is 78 and my b-day was March 29th. I also lived in San Diego for a few years, 6 or 7, and I know Torrey Pines Scripps and also Scripps in Chula Vista. I also know the traffic on the 5 and 805. I can't imagine them free of traffic.
My huge concern is that if one of my parents gets it, they will both get it and I could lose them both without seeing them and with no funeral service and closure. Their risk of catching the virus is effectively doubled because there are two of them.
And my mother is adding to the risk. She got her oil changed yesterday and sat in the gas station lobby. I told her before to wait a month or 2 to change her oil, but she wouldn't listen to me or my father apparently. She was an only child.
After she got her oil changed, she tried to visit Dunkin Donuts, but it was closed. She then went to Whole Foods and then dropped off a mask at a friend's and then didn't make it home for another 2 hours. She wouldn't tell me where she was during that time when I interrogated her.
I was pretty steamed about this and had a long talk with my dad later in the evening trying to get him to keep her in the house as much as possible. I told him that Dunkin Donuts is non-essential and that's why it was closed. I told my father that I would call the police and have her arrested if she continues to go out and flaunt the governor's stay at home order (actually it's an advisory, not an order, but there are civil and crminal penalties attached to the advisory, apparently).
On top of all this, my mother did all that after having her first session of radiation treatment for endometrial cancer, which required the removal of her uterus at Mass General just last month. (As an aside, I asked her if I could keep the uterus seeing as I was inside it at one time. I thought it was funny, she was grossed out and didn't see the humor. The uterus was sent out for biopsy and complete examination).
My father and I attended all pre-surgery and surgery appts at Mass General through the month of February, with the surgery performed by Mass General's Chief of Ob/gyn Oncology at the Newton-Wellesley Hospital where Mass General has a cancer clinic with robo-surgery on Feb 28th. What baffles me now is that there was no Covid awareness at either hospital from early Feb to Feb 28th. My father and I were able to go right up to pre-op until they wheeled her into the operating room. By Feb 1st, Massachusetts had reported a confirmed covid case at UMass-Boston. A month later, near the end of March, when we returned for her follow-up exam, my father and I weren't allowed into the hospital and could not accompany her to her appt, at which she would learn the outcome of her surgery and biopsy. It could have gone either way, and my father and I obviously wanted to be there. Fortunately, she got good news: Stage I, Tumor Grade 3. The doc believes he got it all, but because the tumor was a Grade 3, instead of a better 1 or 2, he recommended radiaton to ensure it doesn't come back: radiation 5 days a week for 5 weeks, which means she will be out of the house and on the loose for the next 5 weeks. And we can not go with her to radiation to keep an eye on her when she gets out.
My mother is no wallflower and she rarely takes 'No' for an answer. Did I mention that she was an only child? She brags about how spoiled she was. I can't ground her. Can't punish her. But I guess I could call the cops if she keeps this up. It's funny, but it's not.
But I do feel lucky that they are both alive still and that I live close enough that I can spend a lot of time with them and attend doctor appts with them. I just wish my mother would listen more. I think she feels invincible after she mostly dodged the cancer bullet. This covid virus is more like an automatic machine gun, however.
I miss San Diego. A lot.
Update on our situation:
My mother-in-law's nursing home has been on the Rachel Maddow show twice in the last week. Tonight we learned that 50 residents have died from the virus, which is over 35% of the population. Over 85% have tested positive. Somehow, my MIL is one of those that tested negative, and is doing fine. My wife regularly gets Skype calls facilitated by her caregiver, which is good for both of them. MIL is pretty stoic in general, and also has dementia, so she's not really scared, just a little confused. It's quite staggering to think about this happening over the course of less than a month. We knew the possibility was there, but now it's happening.
My aunt, who works in a nursing home or similar facility, has tested positive, and is doing fine at home. Unfortunately, her husband/my uncle came down with a fever and atrial fibrillation, and is in the ICU in a small hospital in Maine. He tested negative for the virus both at home and in the hospital, but they are treating him as if he has it. He's not in great shape, overweight and drinks a ton. I hope he pulls through by another miracle.
The extended family is checking in on Facebook and through occasional group video chats for birthdays. Sister and BIL are both laid off, some others are still working outside the home, some WFH, and some getting paid to stay home. One is extremely pregnant in Texas somewhere, so I hope she gets in and out without catching the Rona.
Going to have a call tomorrow with my son, who is working in western MA at McDonald's. He hasn't received a stimulus payment yet, and not sure whether he's paying rent. His hours were cut, so I told him to apply for unemployment benefits. I told him way back that he could move home, but he wanted to stay. That's his choice, but makes it difficult as a parent to see him make potentially bad decisions. Nothing new under the sun. OTOH, our county leads the state in cases, so maybe he's better off out there.
I'm okay with it. He sounds like an okay dude.
I'm guessing that must be the county that Portland is in? Last time I was up there was when Germany won the World Cup. We had a place for a week on that long peninsula that goes south and starts just past Portland, near Bowdoin. Great spot. The fishing was horrible tho. I caught nada, zero, zilch. I said I would bring lobster traps next time.
That's the last time I was all the way to Portland, but we get up to Ogunquit a couple times a year. I love the architecture up there. I'm in western mass now. Born and raised.
And best wishes to your family. So far noone in my rather large family has tested positive and I don't know anyone who has, except for an 83 or 85 year-old woman from Norwalk, CT, who I met once. She died. She was supposed to go to Poland next month for World Senior Games. She held like 3 or 4 world records in the Senior Olympics. She caught it at Church or Costcos, most likely. I think church. Thats a horrible place to teansmit germs. Pass the peace or whatever. Coffee hour. A bunch of hugs and kisses. Singing a bunch of songs and spitting all over the people singing in the pew in front of you. Disease factory.
They're farther down east, in the Penobscot Bay area. I think you were near Popham Beach. Not sure what county, but definitely not Cumberland. Maybe Waldo or Lincoln. My favorite is Sagadahoc, and I always say it out loud when we enter it.
so who's broken down and had their spouse cut their hair yet? Links?

Does cutting my 90yo dad's hair count? And eyebrows… WTF with real olds eyebrows.
He doesn't know URL.
I routinely go a few to several months between haircuts, so this is no big deal. But, if it comes to it, it'll be my daughter. She cut my hair once when she was about 12 and did an ok job. She's good at stuff.
Same.
I'm due. I've begged the wife to do it (for a year plus) but she doesn't want to screw it up. I tell her I'll just buzz it if it doesn't turn out but I think she knows that's how it'll go anyways. She's not going to be my huckleberry on a fool's errand.
If I had my daughter do it and then buzzed my head, an argument would ensue.
Me!
I ordered clippers in early April, they went out of stock immediately, and I finally received them last week. Wife cut my hair out on the driveway and it turned out pretty good. Used a 3-guard on the sides and back and just a 4-guard on the top, so there was no real need for blending or styling. Other than probably switching to a 2-guard on the sides/back next time, I'm very happy with how it turned out.
Certainly better than my hair starting to grow over my ears - that was driving me nuts.
Haven't cut my hair since mid Feb, going strong I might just let it grow to 80s rocker length. The top is probably around 6" right now so it will take a while but I've always wanted to have really long hair, could never convince myself to make the journey though.
Go for it!
Seriously, we gotta grab the good with gusto® in the midst of a pandemic. For those inclined, this is the perfect time to let their LARP freak flag fly!
I had long hair early in college. I was in the Pacific every day, and it was terrible split end hair hair that was twice as wide at the small of the back. Got laid the day I had it cut. Never had long hair since. Now everyone says I look like a retired Marine.
By the time I was 30, my hair had gotten really curly. I tried growing a "pig tail" when I had hair down to collar level… and I did. But unless I pulled it down, it just curled up with the rest of my hair, and nobody could tell. When I decided to cut it off, I hustled a fool at the bar. He bet me I wouldn't cut it off, and I won twice… the hottie bartender cut it off for me, and the fool bought me a beer.