Umm, it's Rikers Island, though. That's going to be a loooooooong 5 months.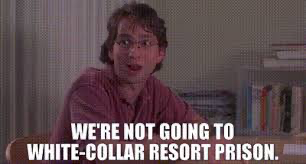 You wouldn't go to Rikers Island for 6 months for 30,000,000 dollars?
He'll spend 3 months in the infirmary away from the rabble.
That's gonna be a no from me dawg
It won't be long now boys and girls
Is cactus a parody of himself or what? What level are we on here?
He's probably on the level. The rest of us are just dicks.
Doesn't say which other country so maybe Canada.
I'm sure our close friend Commodus has some thoughts on this.
"Great letter! Thank you! Unfortunately I don't think you'll be able to read this because some other country nuked you! Sad!"
He paid for them by thinking about it.
He also sold them to foreigners like the treasonous ■■■■ he is
Hasn't Biden had the docs for 6 years? Not exactly "buzzer went off as he was walking out of the store" territory.
I'm not sure when the archives realized Trump had stuff but somebody turned him in for the classified docs like a year after he went to Florida?