I bought a 47-year-old trailer that was kept in poor repair by a fucking psycho slum lord wannabe. Tons of work to do to make it better and most of it within my wheelhouse, but most of that will be in the home improvement thread at some point I suppose. Location is outstanding, with distance to the ocean measured in yards (meters) which means water rats move in during the winter. I am not sure that pest control falls under home improvement so I am starting this thread.
I am an inconsistent pacifist when it comes to animals, like most of us I guess. I have had great success getting rid of mice in the house using a live trap and relocating them.

Rats are different though. I have two live traps they have ignored and after seeing one of these monsters under the sink that looked to be several pounds and finding droppings in places that just crush any ability to deny the issue, I got a tomcat snap trap also.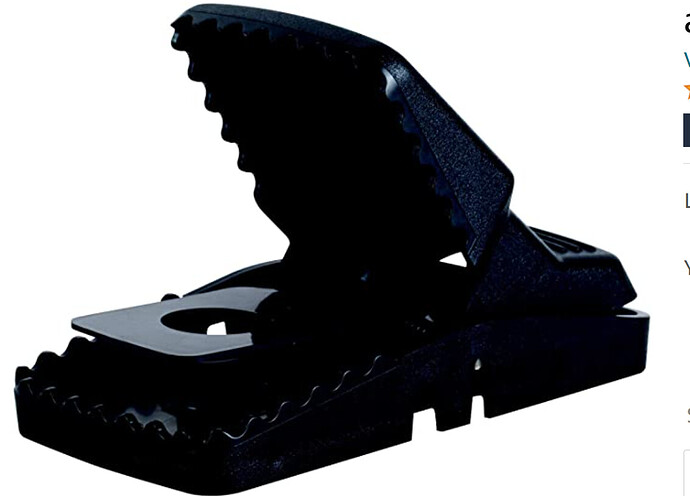 This one was triggered within a few hours, but all it had was some fur stuck in the teeth. These motherfuckers are big and strong. The previous owner half-heartedly jammed some steel wool in the holes that were never properly covered where the pipes come in under the house and they have dragged or pushed that out.
So here is where I am at. I am not okay living with rats walking around our house at night, especially since they are about the size of my damned dog. This last point, that I have a little dog that will get killed or maimed in these snap traps and kids as well preclude the use of those in most places. The live traps are not seeming to work yet, and even though we are seeing signs of them in most rooms they have not gotten into any of our food anywhere yet. I don't want to use poison that may harm other wildlife that ingests it secondarily and also do not want to deal with huge, rotting corpses in hard to reach areas. So my plan of attack is as follows:
I have ordered some 1/4 inch hardware cloth and plan to crawl around under the house and cover any places I can see they have entry. There are a few obvious ones, all around the plumbing. We have shitty fiberglass insulation under the floor that apparently they love to nest in so I am a little squeamish about this step but I gotta tough it out. We are looking into getting natural gas installed and then maybe redoing the heating at that point, but once that decision is made and completed one way or another we can pull out the batting that is terrible anyway and go with expanding foam insulation which they do not like and will also seal everything.
I saw mixed reviews on the ultrasonic repellants and I am considering getting one of those too. I have also heard that there may be poisons that are safe for other wildlife, but i don't know how effective they are.
Does anyone have thoughts, experience, or tips?